Lauren Berlin, our US Program Director for Inua Partners in Hope, recently traveled to Naivasha, Kenya, where she was able to visit the Inua youth and attend their graduation. Check out the article below to hear more about the impact of her trip.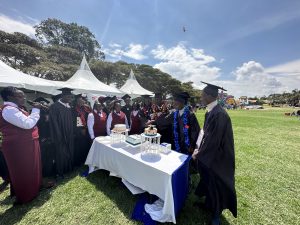 "Have you ever had a mentor? Someone who has invested in your life and for whom you are grateful? I was reminded of how important that type of relationship is as I spent time in Naivasha, Kenya with Inua Partners in Hope. If you are not familiar with Inua, it is a transformational ministry that works with orphans and vulnerable youth (17-23 years old) in Naivasha. Each two-year cycle, about 160-200 youth go through a 2-year training program that provides life skills training, social services, business training, and hands-on vocational training, among other areas of focus. FUMCWP has been in partnership ministry with Inua for over a decade, and this September was the graduation of the Cycle-5 youth. My mom and I flew over to attend the graduation specifically, and during the two-week period what continued to strike me was the involvement of the mentors. These women had such love and care for the youth, and the youth were incredibly grateful for their involvement in their lives.
How the mentors work:
At the beginning of the program, each new cycle of youth within their zones selects a person who will serve as a mentor. One non-negotiable is that the mentor is someone who lives within the neighborhoods (zones usually comprise two neighborhoods). The reason why this is so important is that the Inua staff can only be present in the neighborhoods for a limited amount of time. They multiply their efforts by having someone serve the youth who lives near them. These mentors attend three months of Life Skills training in the first year of the program, which happens daily. For the remainder of the first year, they continue to meet weekly with the youth, and then in the 2nd year of the program, they meet bi-weekly with the youth. In addition to the weekly/bi-weekly meetings, they also check in on the youth and report back to the staff if anyone has any additional needs. For many of the Inua youth, these mentors are the responsible adults in their lives who show them love and care.
During my time in Naivasha, I wanted to visit and spend time in each neighborhood. In each group, the youth would share how Inua has helped them and how their lives have been empowered and filled with hope. The mentor, who provided guidance and demonstrated God's love, was the first person the youth would express gratitude towards. We encountered many youths from previous cycles, and when I inquired about their experience with Inua, they would also mention their mentor first.
After spending time with each group, some of them wanted to show us their new businesses or take us to visit them at their workplaces. That afternoon, we went in and out of their businesses with Mentor Margaret and the other Kenyan staff. Mentor Margaret was clearly proud during each visit. On another day, I asked if we could drive through two neighborhoods that I hadn't been to yet. Florence called Mentor Nancy and told her that they were taking me around her area. Mentor Nancy immediately joined us and pointed out various places where current and former Inua youth were located. When I was involved in youth ministry, I did contact work, but this level of involvement and genuine care left me in awe.
The mentors exemplify Servant Leadership. They engage in relational ministry with young Kenyans, cultivating an encouraging and loving atmosphere to support their success. These mentors are highly involved because they recognize that these once vulnerable youth are now contributing members of society, benefiting the community as a whole. Their relationships with the Inua youth extend beyond the training program, as they continue to be present in their neighborhoods, checking in on them, celebrating their achievements, showing a random American around, and spreading the gospel through their actions. These mentors reminded me of the powerful role mentors can play. It made me appreciate the mentors I have had in my own life and the importance of checking in on the girls I have mentored in the past.
I am always reminded, no matter where I travel, that even though we may live differently in terms of aesthetics, language, and air conditioning, we are all human beings. We are created in God's image and called to love our neighbors. During this trip, I quickly realized that one simple way I could show love was by appreciating and encouraging the Mentors, who are often unsung heroes. My time in Kenya was filled with countless beautiful stories of transformational leadership and how the organization Inua is making a positive impact in a city 8,000 miles away. I am excited to share more of these stories."
With much love and joy,
  Lauren Berlin
  US Program Director, Inua Partners in Hope
---
View the photo gallery below to see more photos from Lauren's trip!